I'm really excited to be typing up my first recipe, Chocolate Brioche Baked French Toast, on my brand new cooking site: www.fionacooks.com.
For the last six years I have shared my gluten and dairy free recipes over at www.freefromfavourites.com. While I will continue to post there every week I decided to start this sister site to share the everyday recipes I create.
I'm working on building out this site and adding in a few more recipes over the next week or so please stick with me while it all takes shape. The plan is to share ideas for breakfast, light bites, dinner, baking and other bits and pieces!
My First Recipe
Brioche is a rich French bread which uses more butter and eggs than traditional bread. It still has a light and fluffy texture with a slightly sweet taste. In my humble opinion this makes it the perfect bread for French Toast.
I've done a little twist on traditional French Toast and have used chocolate chip brioche and chocolate milk.
Rather than cooking in the pan this version is baked in the oven. I usually put it together, which only takes 5 minutes, and then nip into the shower while it bakes in the oven. Paired with fresh orange juice and a cappuccino makes the perfect start to any day.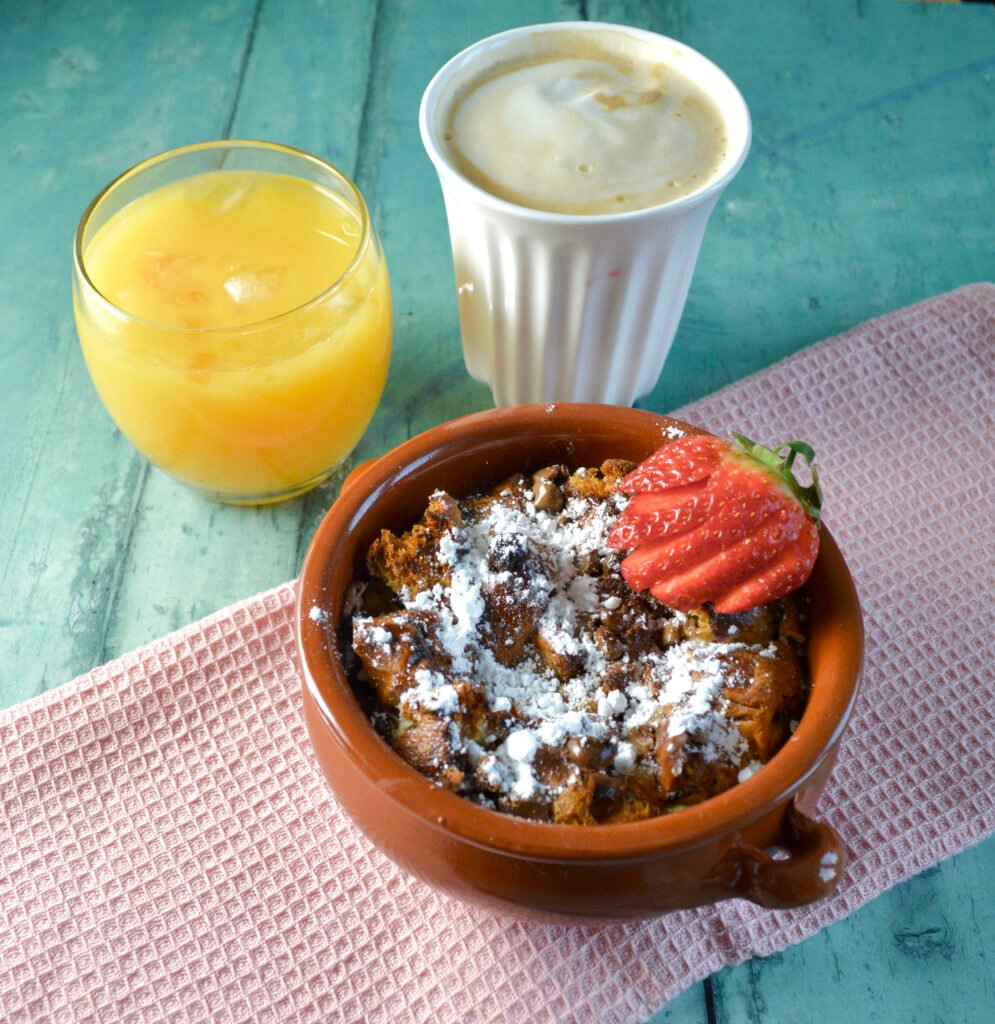 If you are after an allergen safe version of this recipe you can always head over to my sister site. I have a great recipe for a baked apple and cinnamon French Toast which is also gluten and dairy free.
Chocolate Brioche Baked French Toast
Description
A twist on traditional French Toast using chocolate chip brioche baked in the oven
Instructions
Preheat the oven to 180oC

Tear up the brioche into small chunks and divide between two individual casserole dishes

Whisk together the egg, chocolate milk and cinnamon

Pour over the brioche

Bake in the oven for 25 minutes

Dust with icing sugar before serving
Serving Size 1
Servings 2
---
Amount Per Serving

% Daily Value *

Total Fat 13g

20

%

Saturated Fat 4g

20

%

Cholesterol 85mg

29

%

Sodium 47mg

2

%

Potassium 74mg

3

%

Total Carbohydrate 41g

14

%

Dietary Fiber 2g

8

%

Sugars 17g

Protein 10g

20

%
---
* Percent Daily Values are based on a 2,000 calorie diet. Your daily value may be higher or lower depending on your calorie needs.
Notes
You can substitute the chocolate milk for normal milk if you prefer.
french toast, brioche, breakfast, chocolate