Hello everyone, my latest recipe post is for Coriander and Coconut Salmon. Rather than the traditional Thai recipes, which I love by the way, I thought I would share something a bit different.
It is pretty easy to make and and is ready in under 25 minutes. A delicious sauce is made from coconut milk, fresh herbs and seasoning. The salmon is baked in this sauce and served with rice.
Other Dinner Ideas
If you like the sound of my recipe for Coriander and Coconut Salmon then you might want to try out my other dinner recipes.
I'm also working on developing a number of other dinner recipes, including:
Stuffed Pasta Shells with a Creamy Tomato Sauce
Sweet and Sour Chicken with Egg Fried Rice
Spatchcock Piri Piri Chicken with all the Side Dishes
Seafood and Vegetable Paella
Traditional Mac and Cheese
Look for them, and much more, in the Dinner section of my website: Dinner.
Free From Alternatives
A lot of Thai food is naturally gluten and dairy free which makes it a great choice if one or more of your party has dietary requirements. As usual, if you are after more gluten and dairy free recipes then head over to my sister site. It has over 1,000 recipe ideas and you can check them out here: https://www.freefromfavourites.com.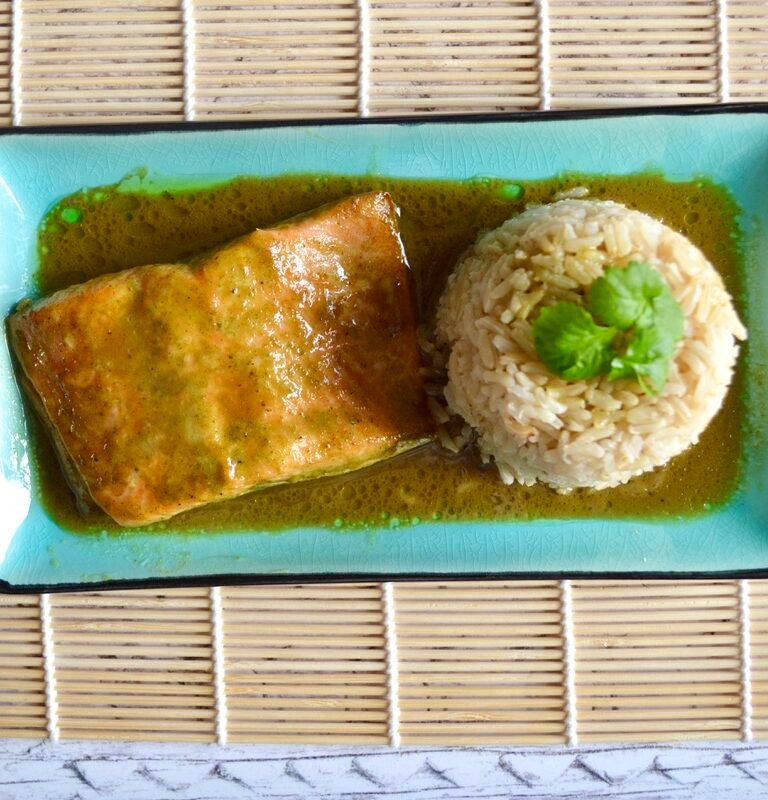 Coriander and Coconut Salmon
Description
Looking for a new Thai inspired dish for dinner then try out my Coriander and Coconut Salmon served with rice.
Instructions
Preheat the oven to 180 oC

Cook the rice according to the instructions on the packet while you bake the salmon

Place the salmon steaks in a casserole dish

Put the fish sauce, ginger, coconut milk, garlic, coriander, brown sugar, lime juice and seasoning in a blender.  Blitz until smooth.

Pour over the salmon and bake in the oven for 15 minutes or until your salmon is cooked

Serve with your cooked rice
Thai, salmon,