Hello everyone, it is snowing outside today so a big bowl of Chicken Sausage and Vegetable Pasta is the perfect winter warmer. It has been absolutely freezing here and has snowed most of the day.
Ollie cat meowed at the door to get out but changed his mind instantly. A cold blast of snowy air sent him running from the door to straight under the bed!
I am a bit of a carboholic and have pasta most weeks. I recently made a very simple but tasty Spaghetti Pomodoro – I'll get that typed up and shared.
This recipe also works greater with a little cheddar cheese sprinkled on top and either baked or put under the grill. It also goes great served with the tear and share cheesy garlic bread I shared in my last post (Tear and Share Cheesy Garlic Bread).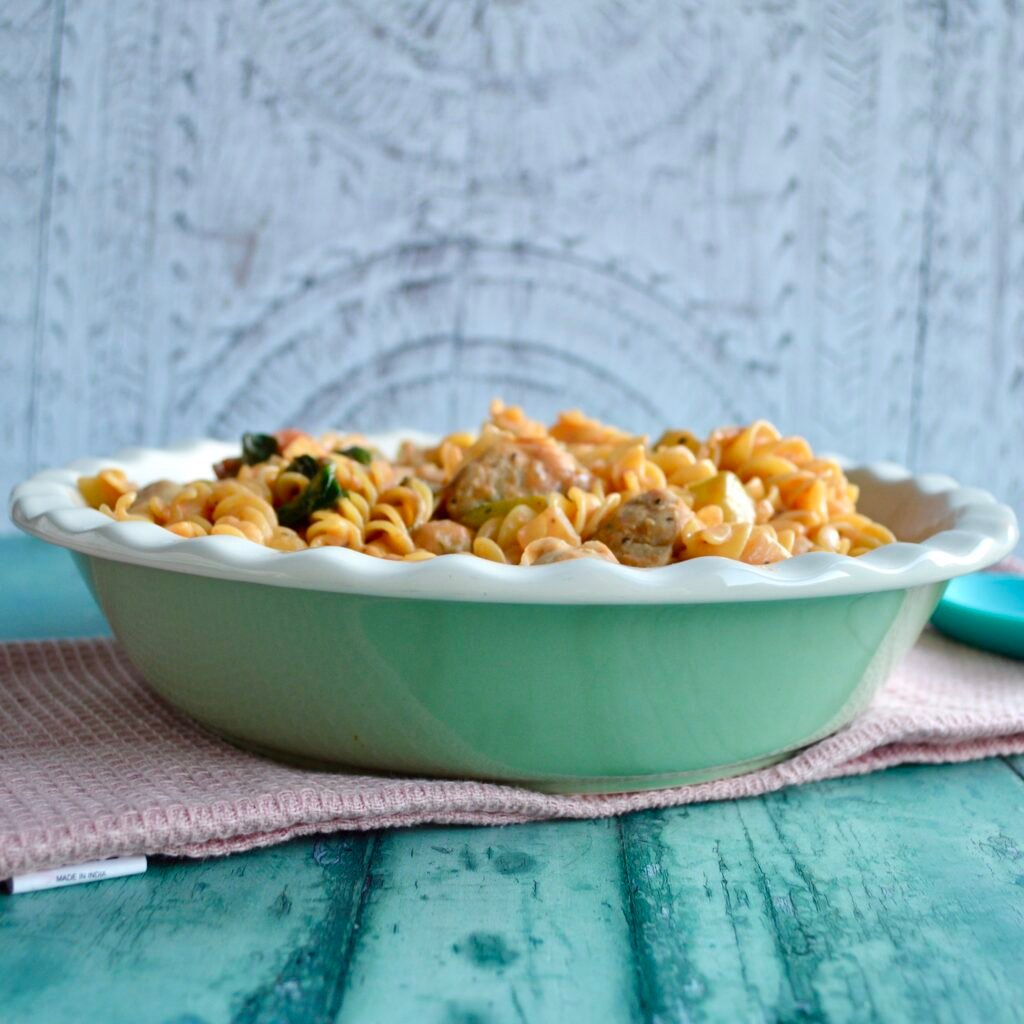 Free From Alternatives
You can easily make this Chicken Sausage and Vegetable Pasta suitable for a gluten and/or dairy free diet. Just use gluten free pasta and double check your chicken sausages. To make it dairy free use a soya based single cream.
If you are after more recipes which fully accommodate a free from diet then check out my sister website Free From Favourites: https://www.freefromfavourites.com/.
Enjoy!
Fiona
Chicken Sausage and Vegetable Pasta
Description
Looking for easy week night meals? Then try out my delicious recipe for Chicken Sausage and Vegetable Pasta.
Instructions
Cook the pasta per the instructions on the packet and set aside while you prepare the sauce

Add the olive oil to a shallow pan over a medium heat

Stir in the sausage, chilli flakes, garlic, paprika, basil, onion and pepper

Stir in the cherry tomatoes and spinach and cook for a couple of minutes

Stir in the single cream and tomato passata and bring to the boil

Turn down to a simmer and season with salt and pepper

Stir through the cooked pasta and serve

 
pasta