Hello, today I'm sharing a simple recipe for a Smoked Salmon Salad Bowl. This bowl has all my favourite things – crispy potatoes, avocado, smoked salmon and jammy centred eggs.
Hopefully the days will start getting brighter and the weather warmer soon. As we move into Spring and Summer I'll be sure to share more salad recipes. I have a few nice ideas that I'm working on.
Other Ideas
If are looking for more lunch ideas to inspire you then you might want to try out the following:
I'll be uploading plenty more recipes to the light bites section so if you liked my Smoked Salmon Salad Bowl recipe you can check out other ideas here: Light Bites.
Free From Alternatives
This recipe is naturally gluten and dairy free which makes it a great option if you have family members who require a special diet. If you are after more recipes which fully accommodate a free from diet then check out my sister website Free From Favourites: https://www.freefromfavourites.com/.
Enjoy!
Fiona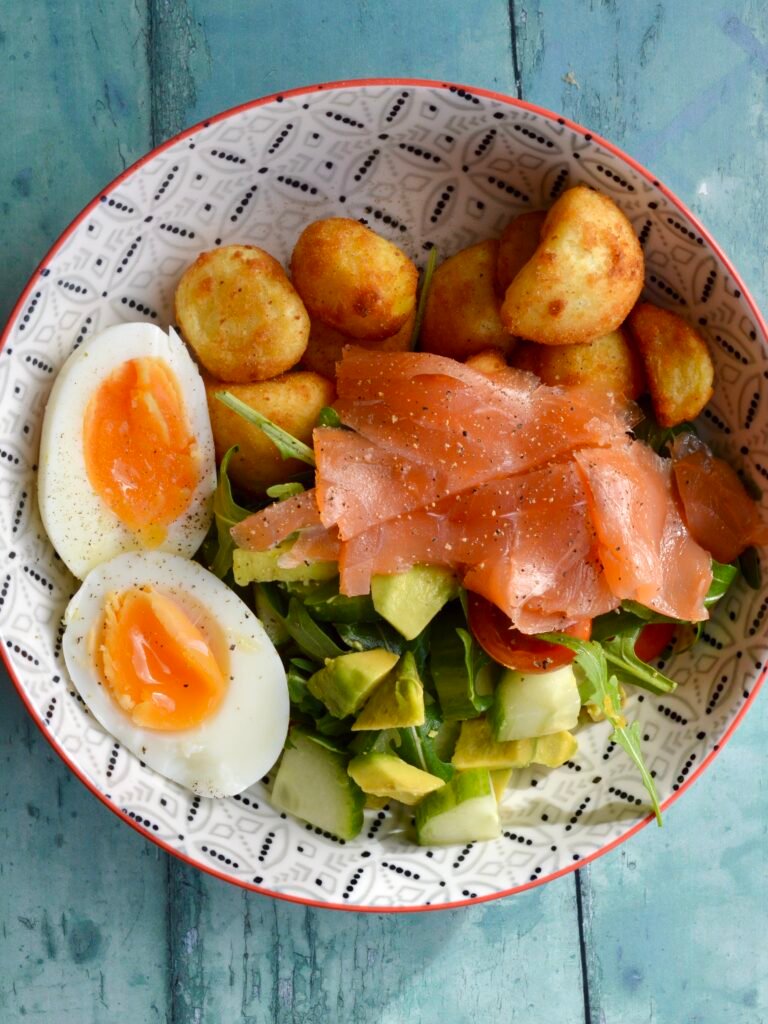 Smoked Salmon Salad Bowl
Description
A perfect Smoked Salmon Salad Bowl with fresh avocado, crispy roast potatoes and a jammy centred boiled egg.
Instructions
Preheat the oven to 200 oC

Mix together the potatoes, olive oil, garlic and paprika

Bake in the oven until crisp, about 20 minutes

Boil the eggs for about 5 minutes, peel and cut in half

Toss the rocket/spinach and cucumber in the lemon juice and divide between two bowls

Top with the crispy potatoes, smoked salmon, avocado, cherry tomatoes and egg
salad