Hello everyone, I thought I would share a simple recipe to make some Valentine's Day Cupcakes.
It is a simple blueberry sponge recipe topped with fluffy buttercream. You can then decorate them with your favourite red themed toppings. I've used a selection of crystallised rose petals and red sugar hearts.
If you aren't into the whole Valentine's theme then you can decorate them with extra blueberries or grated lemon zest. A lemon flavoured frosting rather than the vanilla also gives these cupcakes a nice twist.
Other Baking Projects
If my Valentine's Day Cupcakes recipe has inspired you to get into the kitchen then you might want to try out one of my other recipes:
Free From Alternatives
Finally, if you have a friend or family member on a special diet they don't have to miss out. Head over to my sister website that specialises in free from recipes. If you want to make them a cake try out one of my simple free from baking recipes by clicking here: https://www.freefromfavourites.com/cakes-cookies/.
Enjoy!
Fiona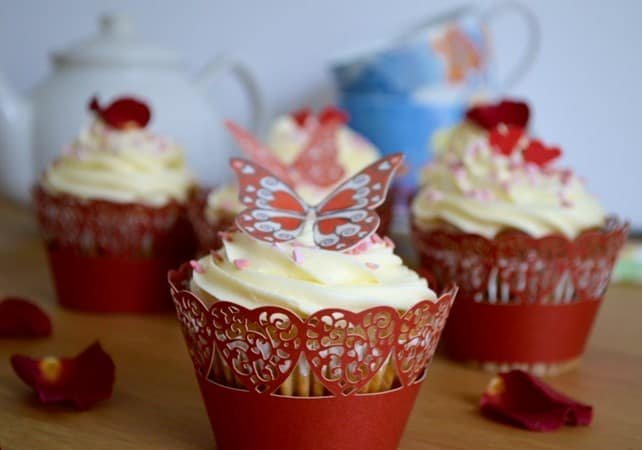 Valentine's Day Cupcakes
Description
Happy Valentine's Day everyone! If you are after an easy recipe to bake then try out my Valentine's Day Cupcakes.
For the cupcakes:
For the frosting:
Instructions
Preheat the oven to 180 oC and line an 8 hole muffin tin with paper cases

Whisk together the caster sugar and butter until light and fluffy

Beat in the eggs one at a time the stir in the flour and blueberries

Divide the cake mix between the muffin cases and bake in the oven for 20 minutes

Remove from the oven and allow to cool

Make the frosting by beating together the dairy free spread and icing sugar until creamy.  Pipe onto top of the cooled cupcakes and decorate.
Valentine's Day