Hello everyone, if you are missing eating out at your favourite Japanese restaurant then try out my recipe for Chicken Katsu Curry. This is a popular dish amongst my friends and family so thought I would have a go at making it at home. It was actually easier than I expected when I broke it down into what I needed for the crumbed chicken and then the curry sauce.
I also made this in a big batch and separately froze the cooked crumbed chicken and the curry sauce. It will make a perfect quick week night dinner in the next couple of weeks.
More Dinner Inspiration
If you liked this recipe for Chicken Katsu Curry then you might want to try out one of my other dinner ideas: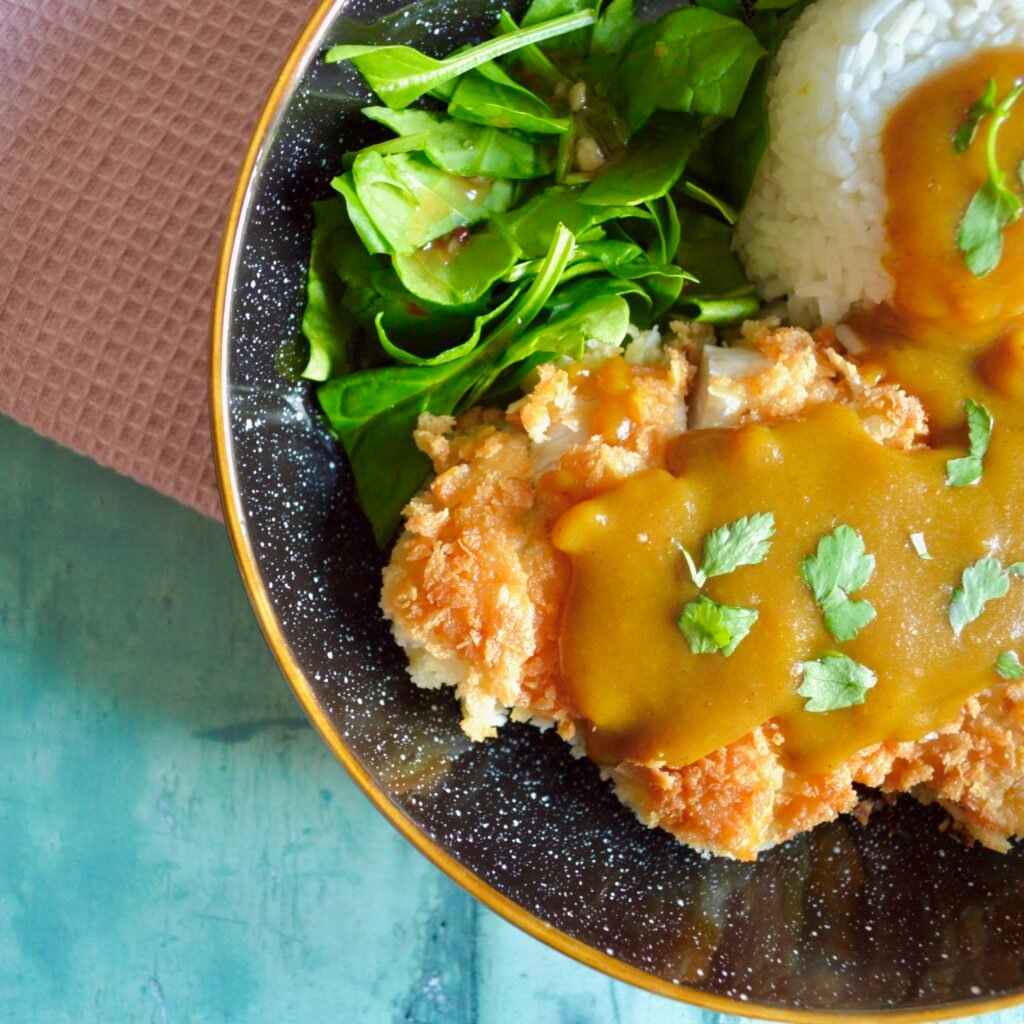 Free From Alternatives
This recipe is naturally dairy free. It can easily be made gluten free by swapping the soya sauce for tamari and using gluten free breadcrumbs and flour 
If you are after more recipes which fully accommodate a free from diet then check out my sister website Free From Favourites: https://www.freefromfavourites.com/.
Enjoy!
Fiona
Chicken Katsu Curry
Description
Missing eating out at your favourite Japanese restaurant? Try out my new recipe for homemade Chicken Katsu Curry.
For the chicken:
For the curry sauce:
To serve:
Instructions
Flatten the chicken breasts until they are about 1.5cm thick and season with salt and pepper

Place the beaten egg in one bowl, the flour in another bowl and the panko breadcrumbs in another bowl

Dip the chicken into the flour, then the egg and then the breadcrumbs until fully coated

Shallow fry the chicken in oil for about 5 minutes on each side or until golden

Add a tablespoon of olive oil into a sauce pan over a medium heat

Saute the onion and garlic for five minutes

Add in the flour, curry powder, ground ginger and garam masala

Gradually stir in the chicken stock until you have a smooth sauce

Stir in the honey, lemon juice and soya sauce and bring to the boil

Turn down to a simmer and cook for 10 minutes

Blend the sauce to make it smooth and silky, this step is optional

Serve with cooked rice, the breadcrumb chicken and spinach drizzled with sweet chilli sauce
curry